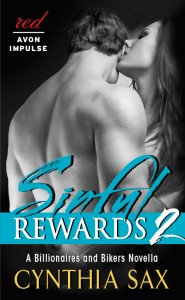 Belinda "Bee" Carter isn't quite sure what she's gotten herself into. She's been receiving mysterious messages from a secret admirer who is sending her more and more erotic dares. Each time she fulfills his desires, she gets rewarded. She's convinced that her mystery texter is one of two super-hot men—Nicolas, the handsome billionaire, or Hawke, the sexy biker—but she can't tell which one it is. And she's coming to realize that beneath her peaches-and-cream exterior beats a heart that longs to play out all of her most secret fantasies.
As the stakes are raised again, will Bee succumb to the sensual allure of this latest dare?
Buy Links:
Amazon: http://www.amazon.com/Sinful-Rewards-Billionaires-Bikers-Novella-ebook/dp/B00I7V89HA
ARe: https://www.allromanceebooks.com/product-sinfulrewards2-1581413-149.html
Barnes And Noble: http://www.barnesandnoble.com/w/sinful-rewards-2-cynthia-sax/1119919836
Google: https://play.google.com/store/search?q=9780062354129
iTunes: https://itunes.apple.com/us/book/sinful-rewards-2/id814153762
***
Read An Excerpt:
"Belinda," Hawke murmurs, his deep voice pulling at me.
Unable to resist his unspoken order, I gaze upward. This is a mistake. His eyes have darkened to a brilliant blue, his arousal meeting, meshing with mine, and I know in this moment, I'm lost. He has me.
"Hawke." I part my lips, offering him everything. He's rough and tough, a big strong military man, a tattooed biker. I expect him to plunder, conquer, take.
Instead, Hawke carefully frames my face with his large hands, his calloused fingertips gentle yet firm, and he dips his head slowly, his gaze holding mine. My heart races faster and faster, my body trembles as though this first kiss is my very first kiss.
He skims his lips over mine, his touch as light as the sheerest silk, his breath wafting on my cheeks. My eyelashes flutter, the sensation sweet yet sensual, innocent yet decadent, completely unexpected and special.
"Priceless," he murmurs, and this is how I feel, priceless, designer, unique.
He dips his head again, follows the curve of my lips a second time, pressing harder, lingering longer. I open to him, inviting him in, needing more, and when he pulls away, I pursue him, prodding him with my tongue.
Hawke groans, the sound rumbling up his chest, through mine, and he surges forward, his grip on my face tightening. My body hums with approval as he pushes his tongue into my mouth. He tastes of rich dark coffee, and I shamelessly suck on him, tugging on his flesh, clinging to him.
A shudder shakes Hawke's shoulders, his reaction thrilling me. I cause him to respond this way. I shred his control.
He cups my ass, drawing me even closer, coaxing me to move, to undulate against him. I rock as he strokes into me, his tongue sliding along mine, tumbling, tangling, dancing to a rhythm only we share. Never have I been kissed like this, a man's being permeating mine, our bodies becoming one.
I'm on fire, burning from the inside, the flames fueled by tongues, lips, hands, hips. Striving to soothe me, Hawke ravishes my mouth again and again, kneading my curves with his fingertips. My lips pulse and my soul aches.
It's not enough. I tug on his T-shirt, pull the cotton away from his honed torso, and slide my fingers underneath the garment, touching hot bare skin. A tremor rolls over him, his muscles flexing under my palms.
Hawke wrenches his lips from mine. "No."
Categories: Contemporary
No Comments »
« Tryst Denied | Home | Sinful Rewards 3 »
Leave a Reply