Wednesday, June 25th, 2014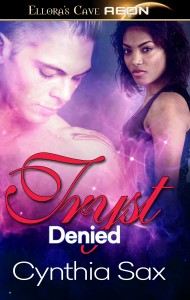 Tawania sees aliens. She knows they're not real. To avoid being locked up in an institution, she does what any functioning insane person would do—she ignores her imaginary intergalactic visitors. Only one tall sexy alien won't be ignored. Raff's heated touch scorches Tawania's grip on reality. His kisses drive her to madness. He declares that she's his destined mate. He also insists he's real.
Raff, an Orogone warrior, is very much real. This handsome warrior has been sent to Earth to round up misbehaving off-worlders and he's not accustomed to being ignored, especially not by a brown-eyed human female with the most kissable lips in fifteen galaxies. He has mere days to convince her to bond with him. Failure results in death.
Buy Now At Ellora's Cave: http://www.ellorascave.com/tryst-denied.html
Buy Now At Amazon: http://www.amazon.com/Tryst-Denied-3-Mating-Mark-ebook/dp/B00L91AYXW
Buy Now At Kobo: http://store.kobobooks.com/en-CA/ebook/tryst-denied