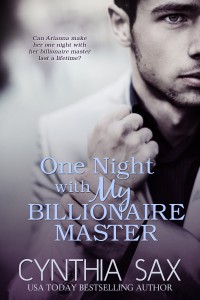 One night. No one must know.
This is the text I sent Logan Ross this morning. The billionaire financier is my father's number one nemesis and has been pursuing me for months. He wants to own me, completely, promising exquisite pleasure balanced by equally intense pain, vowing to dominate me, to show me wicked things a virgin like myself shouldn't be interested in.
But I am extremely interested, and I'll risk everything—my job, my family, my future—to experience one night of total submission with this powerful Dom.
Will one night be enough for both of us?
Buy Links:
Amazon: http://www.amazon.com/Night-Billionaire-Master-City-Sizzle-ebook/dp/B00YDGYXBO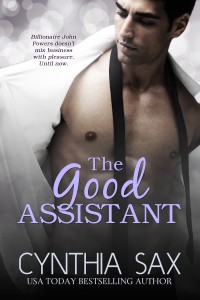 My boss, John Powers, represents everything I want in a man. He's the CEO and founder of a powerful company, that position having made him a billionaire, striking in an I-survived-a-bar-brawl sort of way, and too clever for my sanity.
I'm his assistant and desperately in love with him. I'd willingly serve him both in the boardroom and in the bedroom.
There's one problem.
He doesn't mix business with pleasure.
Ever.
Buy your copy today!
Amazon: http://www.amazon.com/Good-Assistant-City-Sizzle-Book-ebook/dp/B013O33EKM
B&N: http://www.barnesandnoble.com/w/the-good-assistant-cynthia-sax/1122572951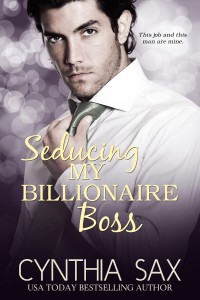 Note: If you purchased the Salacious boxed set, you already have this story.
This job and this man are mine.
I have to land the position Robert Reyes, the CFO of Powers Corporation, recently posted. My friend's health depends on it. I've heard the rumors—that Rob will require… extra duties from this new hire.
He's young, handsome, intelligent. Pleasing him won't be a hardship. Not falling in love with him will be the big challenge. I've lusted after Rob for years, like him more than is prudent, dream of him every night. Touching his body, tasting the salt on his skin, will be both a self-inflicted torment and a fantasy come true.
I'll be a convenience for my hunky executive. This is a job, not a romance. As long as both of us remember this, our relationship should work.
Buy Now:
On Amazon US: http://www.amazon.com/Seducing-Billionaire-Boss-City-Sizzle-ebook/dp/B01EPB5EYG/
On Amazon UK: http://www.amazon.co.uk/Seducing-Billionaire-Boss-City-Sizzle-ebook/dp/B01EPB5EYG
On Barnes & Noble: http://www.barnesandnoble.com/w/seducing-my-billionaire-boss-cynthia-sax/1123725066
On Kobo: https://store.kobobooks.com/en-us/ebook/seducing-my-billionaire-boss
He wants one night. I want forever.
Hit it and quit it—that's Smoke Sheridan's relationship philosophy. The tall, dark, and dangerous club owner never spends more than one night with any woman. He seduces the broken-hearted, leaving them with smiles on their faces and a sexual confidence other men can't resist.
I need his services.
My boyfriend of four years dumped me because I'm a lousy lay. Smoke can help me win him back, teach me how to make my man writhe in ecstasy. I'll show him such bliss, he'll bellow my name in the dark of the night, want me with an all-consuming desire.
This sounds like a great plan. Except I see the loneliness in Smoke's eyes, feel the wistfulness in his touch, experience the wanting in his embrace. The player isn't as shallow as he appears.
And I've never been good at letting go.
One And Done contains inappropriate humor, very bad pickup lines, a BBW heroine who doesn't know what she's doing and a player who thinks he does.
This is a standalone story.
Buy Now:
On Amazon US: https://www.amazon.com/One-Done-Cynthia-Sax-ebook/dp/B01FOVMF70
On Amazon UK: https://www.amazon.co.uk/One-Done-Cynthia-Sax-ebook/dp/B01FOVMF70
On Barnes & Noble: http://www.barnesandnoble.com/w/one-and-done-cynthia-sax/1123809444
On Kobo: https://store.kobobooks.com/en-us/ebook/one-and-done-1